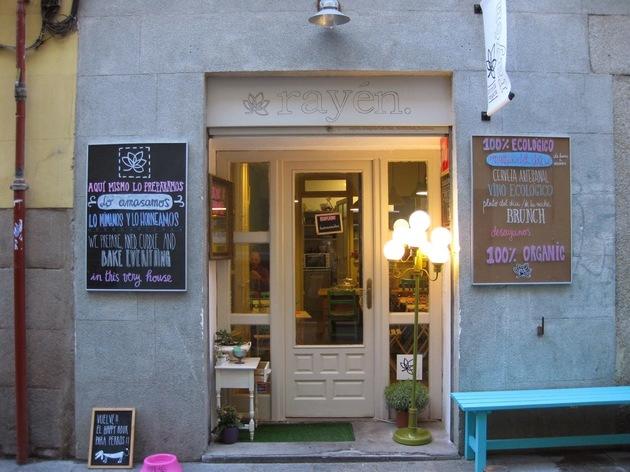 En este minúsculo local vegetariano/vegano hacen ensaladas enormes y no hablamos de tamaño. Hablamos de producto 100% orgánico, de ingredientes frescos… de sabor. Para acompañar, por supuesto, cerveza artesanal, vino ecológico y pan hecho por ellos mismos. Compromiso férreo por la comida saludable y constantes apuestas creativas como ese batido de plátano con té verde macha endulzado con flor de coco. ¿Apetece, no? Un rincón que es todo menos monótono.
Nombre del lugar
Rayen
Contacto
Dirección
Lope de Vega, 7
Madrid
28014

Horas de apertura
Lu. mi. y ju de 10.00 a 16h. Vi 10.00 a 16h. y 20.30 a 23.30h. Sa. de 11 a 16 y de 20.30 a 23.30h. Do. 11 a 16h. Ma. cerrado
Transporte
Antón Martín (M: L1)
You may be interested in:
Rating Breakdown
5 star:

0

4 star:

0

3 star:

0

2 star:

0

1 star:

1
The management of Rayén doesn't know how to run a restaurant, particularly the front of the house. The manager is unrealistic as to how many clients the tiny dining room can serve, and she places more emphasis on packing in customers (keeping some and turning away others) than service or leaving diners with a pleasant experience.
You may or may not find the following conditions "quaint" the first time you go. However, you won't get used to them if you go over and over (as I have from January through April, 2016):
-- Don't expect to get into Rayén without a reservation... Don't expect to get seated promptly even if you do have a reservation.
-- Expect to get *re-seated* after you have been given your *first* table... Expect cramped, uncomfortable chairs and tables. For example, expect the front door to slam into your table every time customers enter or leave... Or, if you're by yourself, expect to be seated at a children's sized bar.
-- The waitresses are not allowed to make any decisions on their own. They have to ask the maitre d' everything; so, expect to wait (1) when you arrive, (2) when you order dishes, (3) when you ask for the check.
-- Weekday lunch specials include a choice of ginger- or cardamon-infused water. No refills. Your free option is chlorinated tap water from the sink in the dining area.
-- Sometimes the food is outstanding; sometimes it's just OK. But, simply put, the control-freak running the front of the house will ruin your dining experience.